HOPS BREWING – The Makers
Holger Schmidt, certified master brewer
Holger Schmidt first got acquainted with the brewing craft in a private brewery in Kirn. After his studies at the TU Munich-Weihenstephan he then started working for a microbrewery where he also first developed his passion for the real craft of brewing beer. Later on he then started working in quality assurance in a larger brewery. Afterwards he got to know breweries all over the world, helping them in matters relating to quality assurance.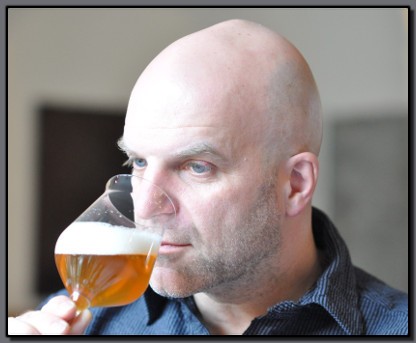 "Mit HOPS BREWING schliesst sich für mich ein Kreis: wieder eine Handwerks-Brauerei, allerdings diesmal mit Schwerpunkt auf charakterstarken Craft Beer Spezialitäten nach eigener Rezeptur."
Oliver Schmidt, beer sommelier
Initially after his Abitur exams (after graduating from German high school) Oliver spent three years touring the world. He then in Australia was trained to be a barkeeper which then led to him working in the most popular cocktail bars across Australia, New Zealand and Berlin, the capital of craft beer. In summer 2014 Oliver then completed his beer sommelier training at the "Doemens Genussakademie" in Munich.
"As a master-brewer's son, I was probably born with a love of beer, and have always been fascinated by the interplay of different flavours, as for example in cocktails. Being an expert regarding the sensoric characteristics of our beer specialties, I'm the one who joins Craft Beer and Kitchen at HOPS BREWING by recommending which type of beer will go together well with what dish, and vice versa."
Ernst D. Freitag, certified master brewer
The Dortmund native Ernst D. Freitag started his career by becoming a "brewer and maltster" for the Thier brewery in Dortmund and after that working for Hoevels-Hausbrauerei – one of Germany's first microbreweries – as well as working for a medium-sized brewery in Switzerland. After earning his degree as a certified brewer at the TU Munich-Weihenstephan he also completed his studies as a business economist. He met Holger Schmidt when they were both students at TU Weihenstephan, and later, their professional paths crossed once more. During their common productive periods, Ernst was able to gain an insight into breweries of various countries around the globe, and together, he and Holger subsequently developed the idea to establish HOPS BREWING.
"One might say that beer is in my blood – not only because I'm a Dortmund boy by birth, but also because my grandfather already was a beer-brewer and brewery owner. With HOPS BREWING, we do not want to follow the mainstream but rather want to offer the beer-lover nothing less than first-class beers which stand out from the mass-produced brews."